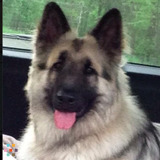 Liz M
Pet-Sit the Most Amazing Dog Ever!
Renovator Job in Terryville, Connecticut
I am a Terryville resident and I would love to find a home our boy can spend time with while we are gone. We have a 5 day trip planned the first week of August, and we do not like the idea of boarding our guy in a kennel. He's a rather strapping young lad, 18-month old Shiloh Shepherd, intact. He's very well trained and super sweet. He's dog friendly (Minor issues with other unaltered males, but nothing bad) and plain scared of cats. He makes human friends instantly and will likely have his CGC by the time we leave on our trip. He is UTD on all shots. He eats raw, and is completely non-food aggressive. He's very playful and athletic without being hyper. In fact, he's usually described as calm with a great temperament. And he happens to be the handsomest dog in the world (true story). At least that's what I think. We also have a house rabbit, also calm and easy. She's fastidious and brave. If you are willing and able to accommodate our boy Tuco, please call me any time between 7AM and 10PM or email me any time.
Share This Profile
Find Renovator Jobs in Terryville, Connecticut
More jobs in Terryville, Connecticut