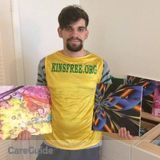 KinsFree F
Thinking to renovate your kitchen?
Renovator in Pompano Beach, Florida
More and more homeowners are realizing the benefits of choosing to renovate kitchen cabinets, doors, and countertops in acrylic on 3 dimensional art. In the 80's to the late 90s, many cabinet makers called this method formica refacing, which some people still buying it. The first process of the reface, is to remove the doors and countertop to replace them, because the material used is most certainly particle board, Melamine or MDF, laminated in formica or thermofoil. Once laminated with the glue, contact cement, if you try to remove the lamination, all the material of the surface comes along, creating problems that cannot be fixed. Any way, like I mentioned here, is not worth, and that's why they need to be replaced. Now then, automatically, you must pay a least 30% of a new kitchen. Before you decide to remodeling your Kitchen, doors, countertop, shower walls and floor, I recommend you to do some research in acrylic on 3D art. I guarantee that you will be fascinated by this art, the cost, the durability and much more that we can show and explain for you if interested in our work. And best of all, you don't need to purchase new doors or countertop. The Acrylic on 3D Art and with our GlowwCrylic on the edges will give a such beautiful look that you won't believe.
Recommendations
Robert Batata
I recommend KinsFree F as a renovator
Share This Profile
Find Renovator in Pompano Beach, Florida
More in Pompano Beach, Florida