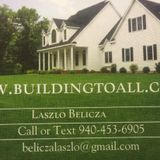 Laszlo B
Remodeling and Handyman services
Renovator in Orlando, Florida
B.T.A. BUILDING TO ALL Home remodeling and Handyman services | Free estimates | Jobs of any size INDOOR Install Ceiling Fans & Lighting Occupancy Detector Small Plumbing Painting Flooring Installation (Including Cleaning & Buffing), Laminate, Staining, Hardwood Carpet & Tile Installation, Cleaning, Repair, Buffing Weekly & Monthly Inspection for Future Repairs OUTDOOR All Level Concrete Raising & Supporting Siding Soffit Tree Trimming Yard Cleaning Deck & Porch Installation Gutter Cleaning & Repairing Fence Repairing & Staining French Drains Garage Cleaning Install New or Repair Siding Weekly & Monthly Inspection for Future Repairs
[email protected]
Call or Text # 940-453-... www.....com
Recommendations
Celena Freeman
Laszlo Belicza has performed several repair jobs around my home to the greatest satisfaction. Installed wood floorong, new entry doors, garage door opener, fence repairs, and new lighting. He pays close attention to your request and makes additional recommendations to give the best outcome possible. He doesn't just make the job visually pleasing, he makes sure value is added to your property. Laszlo would be a great hire on any job.
Mandy Mills
Laszlo Belicza has been such a help for me! A friend of mine recommended Laszlo to me. I have needed some work done on my older home and he went above and beyond to make great repairs! He took the extra time to do it right, and I felt his prices were very fair..and the work he does is very professional. He has become my "go to" guy!! I have total faith and trust in him.
Barbara Gibberson
I recommend Laszlo B as a renovator
Kelly Thames
Laszlo Belicza is a very skilled individual and can design, build, and repair many systems, buildings, plumbing, electrical, etc... He has a wealth of experience from all types of jobs all over the world and I can recommend his services. His work will be professional grade and complete.
Jenny Greane
Laszlo is very thorough, hard working, and honest. He knows how to do just about everything we have needed him to do. That is an important quality especially coming from a property management and construction company. Jenny Green Bluestone Partners, LLC.
Share This Profile
My Other Profiles
Find Renovator in Orlando, Florida