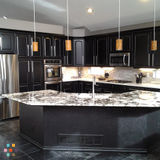 Ke I
Everyone wants to live in their dream home. We'll help you get yours there!
Renovator in Denver, Colorado
KE Interiors, Inc. is one of Denver's premier Interior Design firms specializing in kitchen and bathroom remodels. Interior Design is so much more than just making a room pretty. It's about creating an environment that's functional, comfortable and stunning! Having your home reflect your personality, your needs, and your style can increase your happiness and well being. Remodeling makes that possible. KE Interiors, Inc. specializes in home remodeling, kitchens, bathrooms and interior design. From concept to completion, we walk you through the whole process and take care of every detail so you don't have to! Our goal is for you to love your home! Owner and designer, Kathryn Carney, has over 11 years of interior design experience in both residential and commercial applications. She takes the time to get to know her clients and really listen to their needs and wants. She then implements a detailed plan to make her client's dreams a reality. Kathryn's passion for remodels and interior design is evident in everything she does. Her eye for color, attention to detail and fresh perspective always bring unique ideas to a project that have clients saying "I never would have thought of that!".
Share This Profile
Find Renovator in Denver, Colorado