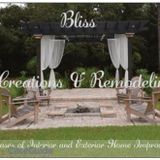 Aaron M
Bliss Creations & Remodeling
Renovator in Crystal River, Florida
All Phases of Interior and Exterior Renovations. From Landscaping, Decks, Patios to Kitchen and Bath remodeling. Flooring, Painting, Window Replacement. Full Custom Designs.
Recommendations
Rick Markussen
Aaron is one of the most creative designers I have ever met. He built a unique deck on the back of my home, added pavers and completely changed the look of my back yard. I get compliments on it every time I have friends or clients come over. I also seen his work on other homes in the area, Aaron has helped sellers get top dollar for their homes with his professional designs. One last thing, I never seen a man work as hard as he does, always on time and does what he says he is going to do for you. Aaron is the real deal! Richard Dale Markussen PA, Realtor
Andy Viola
I recommend Aaron M as a renovator
Bill Nahorodny
Aaron and his wife Nicole do incredible work. We needed our kitchen redone. We had picked out what we wanted done and the materials. After 14 years of playing professional baseball as a Catcher with the Phillies, Sox, Braves, Indians, Tigers and Mariners a bad hip showed up and I was put in the hospital for a replacement. When I came home Aaron and Nicole had done the job beautifully. It was breathtaking. I would recommend him to my own family. They are honest, fast and do a beautiful job. They did mine perfectly and without any supervision. On a scale from 1 to 10 with 10 being the best they get a 15.
Share This Profile
Find Renovator in Crystal River, Florida
More in Crystal River, Florida