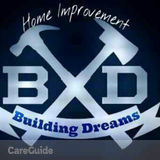 Adam W
All property's issues. Call experienced professionals. Building Dreams has over 20 years experience.
Renovator in Greeley, Colorado
Building Dreams Home Improvement has over 20 years experience in renovating residential and commercial property. Company goals are communication, quality work, reasonable timing at great pricing. From water restoration such as a leaking pipe to a company default perhaps a window, a roofing shingle, or any other place storing or retrieving water. This could be a health concern as well. More important it is a inconvenience and hassle to you and maybe others. To repair and pervent these issues in the future experienced personal should be your best option. These service and other interior services we provide at a competitive price. Are summer special is about to end on all exterior coatings. As 25℅ off all painting, stucco, and stone finishes. All season discount of up to 40℅ off all woodpecker patches in stucco and or damaged trim on stucco surfaces.
Share This Profile
Find Renovator in Greeley, Colorado
More in Greeley, Colorado